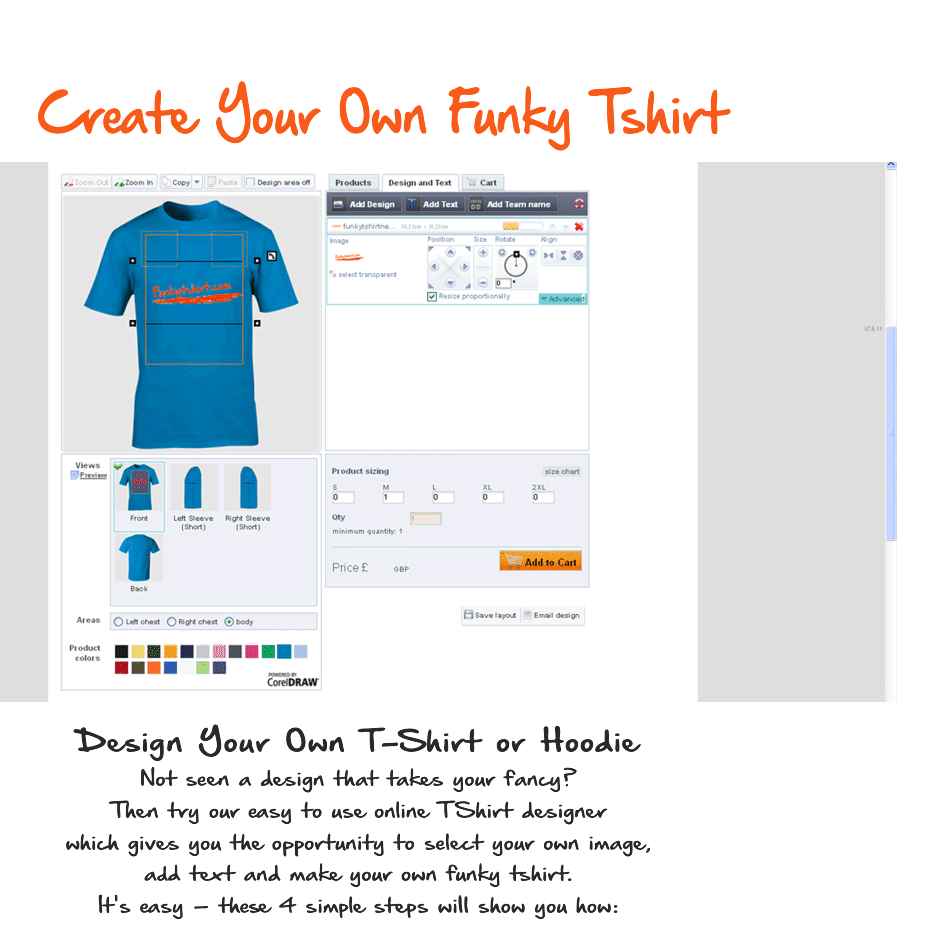 A. Choose a t-shirt or hoodie
On the home page under "Create your Own" you can click on the clothing selection you would like to look at. Click on the image of the product to select and enter the designer.
B. Create your t-shirt with an image or photo
Start by selecting the colour you require. Click on "Decorate Now" on the right hand side of the T-Shirt Designer to design your own t-shirt. The programme will default to a box on the left hand side of the garment. If you don't want to use this area, then click cancel at the bottom of the box.
You will now see the front of your garment but have the choice, at the bottom, to select the area of the garment you wish to design.
Once you have decided on the area to decorate, go to the tabs at the top and select add design. You will be asked to select the printing technique. Not sure which print technique to use then check them out in our 'About Us' section.
In the artwork area, you are able to see any previous artwork you have loaded (if a registered user) and the option to upload your own design. Once you have agreed you have the correct permissions to use this artwork, you will see a preview. You then have the tools to personalise your t-shirt by moving, enlarging or shrinking or rotating the design you have picked.
or Design your own t-shirt with text
Design your t-shirt with your own text. Click "Add Text" and write anything you like on your item. You can customise the font, the text size and move and rotate the text.
or Design your own team kit
This option allows you to add individual names and team numbers which are printed with vinyl lettering. Click 'Add Team Name'. You need to select the size, add the name and the team number. You have the option to move everything around and to change the font
C. Preview your creation and check out
Check out your design with the preview link which can be found on the left hand side under the main picture. When you like what you see, check out our sizing chart, select a size and add to the shopping cart.
You now have the opportunity to add further designs if you wish before checking out.